It all started when…
James Leon Collins always had a vision for driver safety in the Upstate of South Carolina. Leon, as his friends called him, was a thirty two year veteran of the South Carolina Highway Patrol. He joked that he worked 32 years, 4 months, 14 days, and 10 seconds. When people would ask him what the 10 seconds were for, he would jokingly say "to get out the door." His career began on the South Carolina Highway Patrol, then eventually worked in driver's licenses and testing. Upon retirement he was the manager of the DMV office on Saluda Dam Road in Greenville.
When Leon retired from the South Carolina Department of Motor Vehicles, he still had the desire to continue to serve the upstate community in some way related to driver safety. Since a great deal of his career was administering driver's license tests and his entire career was enforcing traffic laws, a natural outflow was driver improvement and training.
The Beginnings of auto-Safe
Auto-Safe began as a one person operation. Leon would do driving appointments during the day and then come home and call customers and potential customers back and handle paperwork. The office was in his home and there was no classroom as this was not a requirement in 1989. Below are some photos of early documents from Auto-Safe.
auto-safe grows…
Auto-Safe was committed from the beginning to teaching students of all skill levels and ages.
In 1991 Auto-Safe took a major step forward when we were certified to teach the driver Improvement class for insurance discount. The course used was, " Drive Right: A Responsible Approach." This was a major step in diversifying the business to include not only new drivers but to enable current drivers to improve their driving and receive an insurance discount for taking a sit down class. This would also be foundational and gave Auto-Safe the edge when classroom would be required for all new young drivers in a few years after that.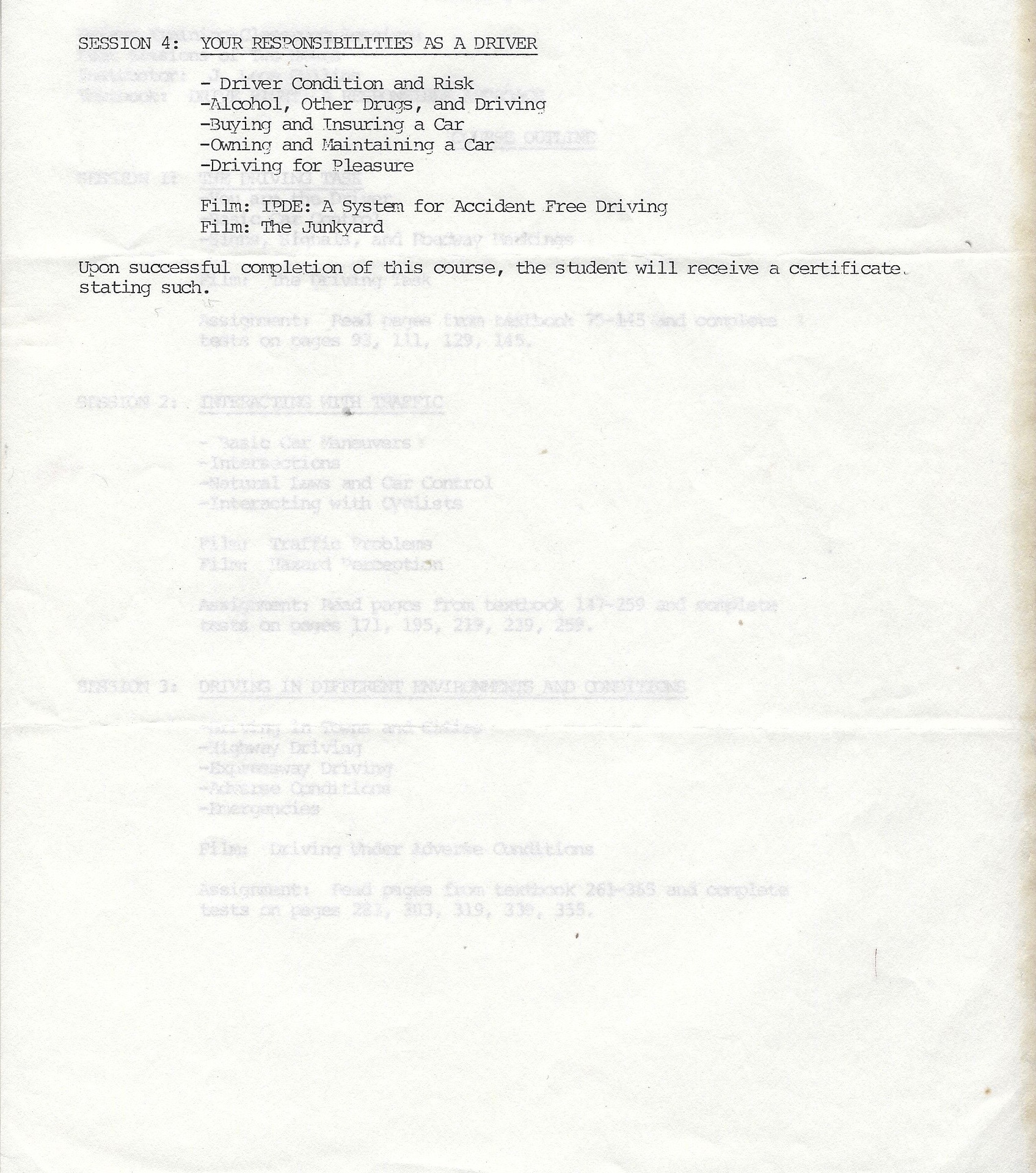 In 1994 we began offering classroom for teens. Again, this started with humble beginnings with the class being held in the large lower level of Leon's home. Auto-Safe had an advantage over newer schools doing driver training for teens. We had already been a pioneer in driver training in the upstate of South Carolina and also pioneered classroom training in the Greenville area. Auto-Safe already had three years conducting classroom training before teens were required to take the class. We started using the class curriculum from The American Automobile Association, (AAA) and have used their materials ever since (We are now on the third revision of the course).